Maytag Washing Machine Repairs in Ottawa
When you bring home a Maytag® appliance, you're bringing home the hardest working helper in the house. A partner in domestic dependability. Because a smooth-running home needs a long-running fridge. A dishwasher that'll take some work off your plate. Ovens that do more so you can do more. And washers that are always ready to give dirty clothes a good kick in the pants.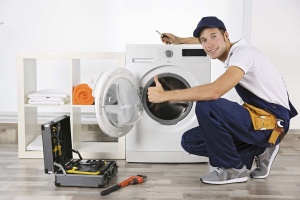 Having a reliable washing machine is really important for all households. Don't put up with a noisy machine, washing machine shaking, or spinning issues, we can fix problems like these promptly and with a written guarantee, so you know where to go if there are any unexpected problems with the workmanship.
Call Now: (613) 898-4290
Same Day Service
YB Appliance Repair washing machine repair team are on hand for all your Maytag repairs and servicing needs. Our workmanship is 100% guaranteed so you can have peace of mind knowing you're dealing with a well established reputable company. By carrying frequently needed replacement parts our team can complete your Maytag repair in the shortest possible time, minimizing impact on your day.
Our reputation has been built upon providing a great, honest service that everyone has come to depend on. Over the years, washer repair has become a passion of ours and our large team of technicians share the same vision as us which centers on a customer-oriented experience. When it comes to washing machine repair, there is no better service than us, and we're not just saying that, our customers tell us all the time.
We get calls on washer repair help for all sorts of reasons with the most common below:
Cycles do not finish
Takes longer than normal to wash a load of clothes
Will not turn on
Water leaking
Soap does not fully rinse out