Frigidaire Appliance repair Ottawa
As a homeowner, you have to face reality – some of your appliances are going to need repair and maintenance at one point or another. Well, you can trust the YB Appliance team. We are your premier choice for quality Frigidaire Appliance repair Ottawa services. If you are having problems with your Frigidaire appliances around your home, give us a call right away. We've been in the industry for years and have technicians who know their jobs well. Hence, instead of wasting your precious time, get in touch with us and we'll send one of our technicians to provide expert diagnosis. Moreover, we are so confident that our technicians will be able to fix your ailing Frigidaire appliances and make them work like new. We offer a 6-month warranty, and you can have the peace of mind that you made the right choice.
When it comes to your Frigidaire home appliances, one of the first things you should do is call us at YB Appliance team. Throughout our years in business, we have worked and repaired Frigidaire appliances of different makes and model. All this put together makes us the leading choice for homeowners when it comes to Frigidaire Appliance repair Ottawa services. That is to say, give us a call and one of our friendly associates will help you.
For your refrigerator repair, oven repair, washer repair, dryer repair and a whole lot more – call YB Appliance. This is where time tested experience meets state of the art technology to make all of your appliance issues go away. In other words, we are the best Frigidaire Appliance repair Ottawa service provider in the city!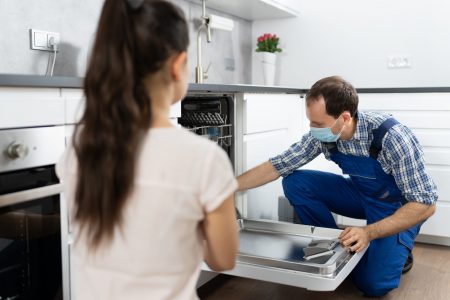 Same Day Frigidaire Appliance repair Ottawa
Have you ever needed the same day refrigerator, dryer, dishwasher or other home appliance repaired? With YB Appliance, the whole process is easier than you think. When you call us for any of your same day Frigidaire appliance repair problems, we will send our technicians right away. Our team always carries all the necessary tools and spare parts with them. This enables us to get your Frigidaire appliance up and running in no time. You might probably think about the time you are going to waste repairing your appliance's issues. Well, you can stop worrying about your Frigidaire appliance repairs, we are here to help you. For same day Frigidaire appliance repair in Ottawa you can count on us for any emergency repairs.
If you've never been through the process of Frigidaire appliance repair in Ottawa before, it can seem a bit overwhelming. But don't worry. This is where we come in. At YB Appliance, we take pride in offering high quality service to our clients at affordable rates. For more information or inquiries please call us to schedule a time with one of our technicians at your home! We can work around your schedule as we are available 7 days a week. Moreover, we understand how hard it can be to keep your appliances in good condition and that's why we're here for you!