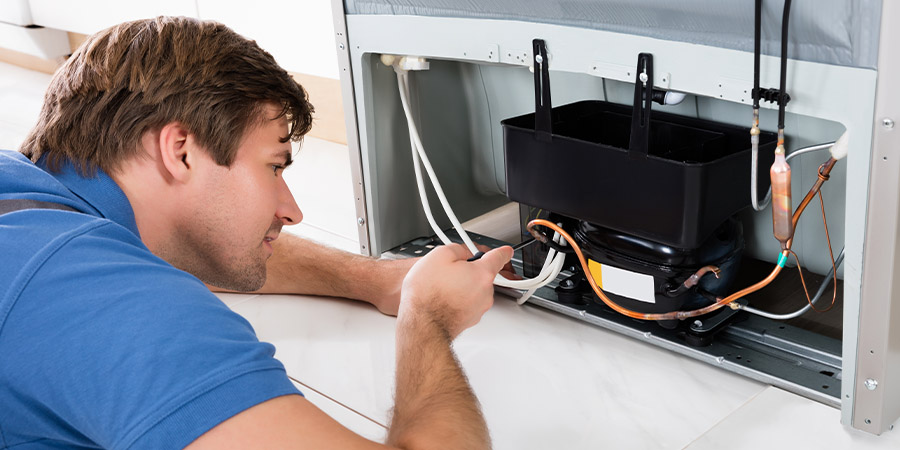 Fridge Repair Orleans
We Work On Weekends!
When you are on the lookout for expert fridge repair Orleans service, we are here to fix your appliance efficiently. With our extensive experience and dexterity in the industry, we can handle all your appliance issues with ease. We have served the Orleans community with honest prices and professionalism for over ten years. And our professionals have the right tools and qualification to handle your repair needs. Moreover, our services include refrigerator repairs, maintenance, and installation for a wide range of makes and models. 
Further, when it comes to a busy household, there is never any room for an appliance to malfunction. Well, you can always count on our competent professionals who are trained to provide the best possible fridge repair solutions. When our experts are at your door, you can breathe easy. We also offer same-day service so you can get back to enjoying your refrigerator in a matter of hours, not days. Hence, for all your fridge appliance repair and maintenance needs in Orleans, contact us at YB Appliance Ottawa today! 
Same Day Fridge Repair Orleans
If your refrigerator is not working, then you have every right to be concerned. It is a significant appliance in your home, and when it stops functioning, everything else goes out of gear too. When that happens, schedule an appointment for the same day fridge repair Orleans services from our experts. Our technicians are skilled and apt in servicing all brands including LG, Whirlpool, GE, KitchenAid, and others. Moreover, we have the best teams of specialists who are quick and efficient in delivering prompt repair solutions for your Orleans household.  
Further, we understand that your refrigerator is an essential part of a working kitchen. And when it breaks down you need a repair company that gives you immediate attention and quality service. Well, at YB Appliance we guarantee prompt service, polite customer service, free estimates, and flexible scheduling. Moreover, our fridge repair Orleans services are known for their affordability, with no repair job too big or small for us. 
Fridge Repair Near Me
If your refrigerator is not functioning, it can be a huge inconvenience. Fortunately, our company is here to save the day! We provide fast service and high-quality appliance repair for the Orleans area. We are home to a team of experts who can fix a wide range of refrigerator makes and models. As a team of experienced professionals, we can handle any type of transmission, cooling or water-related fridge repair Orleans issues. 
Further, we are the specialists delivering speedy and affordable service to our customers straight to their home or office. We proudly provide the same day, low-cost fridge repair near me service for people in the Orleans area. When you choose us, you can enjoy excellent customer care and appliance parts that will fit the brand of your refrigerator. Moreover, we know a broken fridge is just one more thing to stress about. But you can rest assured knowing we have the tools, knowledge, and professionalism to get the repairs done right. Call our refrigerator repair specialists today to schedule maintenance or an urgent repair.