Ceramic Cooktops
Repair Ottawa electric cooktop repair
While their heat up speed might not match that of induction cooktops, ceramic cooktops still perform well and their the sleek cooking surface is stylish and easy to clean.
We're starting to see more models available with features similar to those seen on induction cooktops. Auto switch-off, boost, auto heat-up and stop and go are becoming more popular features on ceramic cooktops. But there are a few other things you'll need to consider too. That's why we're here to help.
Ceramic cooktops are a sleek and stylish option – generally the most affordable option out of all three. Powered by electricity, they are available in a range of configurations.
While they provide excellent heat-ups, they are (typically) not as efficient or effective as their induction or gas counterparts, while providing less of the precision that the others offer.
That said, they are increasingly improving in terms of the quick and even heating they provide. This can be attributed to the tightly wound heating elements that provide the heat to the ceramic – these provide better heat distribution compared to older models with more more loosely wound coils.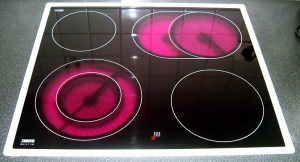 The best ceramic cooktops provide excellent and effective heat-ups. Moreover, they are stylish units that are very easily cleaned thanks to the smooth, continuous surface of ceramic cooktops.
They are relatively easy to install as opposed to gas or induction cooktops. As such, their pricing and ease of installation makes them particularly suited to apartments or investment properties.
Things to know about Ceramic Cooktops 
Repair Ottawa electric cooktop repair
They are the least responsive to temperature controls, since the ceramic glass will hold the heat. This also means you have to be careful with them once switched off – although residual-heat warning lights will indicate when they have reached a safe temperature.
When looking for your ideal positioning and layout, consider the size of the pots and pans you might usually use. A well-spaced cooktop will let you use multiple pots at once – without having to reach over one element to get to another. Meanwhile, the presence of a dual element with two heat rings will provide added flexibility.
What are the options?
Ceramic cooktops are available as:
Ceramic radiant cooktops – use coiled metal elements under tempered ceramic glass
Halogen cooktops – use halogen bulbs to create heat
Semi-halogen cooktops – combine a halogen bulb with a coiled metal element
There aren't any noticeable differences in cooking performance, ease of use and cleaning between those three types.
Things to consider
Size and shape matters!
Do you want a square or rectangular model? ceramic

cooktop repair Ottawa

Make sure you have the necessary space on your bench to fit the cooktop, as well as ventilation space underneath. Measure your available bench space before you go shopping.
Check the specifications of the cooktop – there are minimum distance requirements for the bottom of cupboards or rangehood above a cooktop.

Ottawa electric cooktop repair
Laying it out
You need to consider the position and layout of the elements and their size in relation to the pots and pans you usually use.
Look for: ceramic cooktops repair Ottawa electric cooktop repair
Elements that are well-spaced so you can use multiple pots at once and don't have to reach over one element to get to another.
A range of simmer, medium and large elements.

Ottawa electric cooktop repair 

Simmer elements positioned at the front so you don't have to lean over other burners to stir a sauce
A dual element with two heat rings – for smaller pots you activate the inner ring, and for larger pots you activate both.
A flexible cooking zone – this allows you to expand the cooking area, turning it into a useful 'oval' element, suitable for elongated pots like casserole dishes.
Rectangular models are generally more spaced out, but you can find square models that have good element layouts too.
What about my cookware?
Pots and pans should fit comfortably over the cooking zone and not cause restricted use of the other elements. Cookware should be flat and smooth, and the base should match the diameter of the cooking zone to provide good contact with the ceramic surface.
What else should I look for?
Smooth surface
Ottawa electric cooktop repair
Look for a surface that's easy to clean and a design without dirt traps. A good cooktop should be able to effectively contain spills – some ceramic cooktops don't have a lip or rim to do this, which makes them easier to clean but potentially messier.
Controls
ceramic cooktops repair Ottawa
Control knobs should be easy to grip, with a clear pointer, and easy to remove for cleaning. Touch controls should be logical and not positioned too close to the cooking zones. Symbols and markings should be easy to read and understand, and their layout should match the burner/element configuration as intuitively as possible. If they're close to the front of the cooktop they'll be easy to reach. Keep in mind if you have kids they'll be easier for them to reach too.
Power range
ceramic cooktops repair Ottawa
Electric elements are rated in kW. A good power range is 1.2 to 2.2 kW.
Residual-heat warning
Ottawa electric cooktop repair 
The ceramic glass remains hot long after the heat has been turned off, posing a safety hazard. Look for one with a warning light that stays on until the cooktop has returned to a safe temperature.
Automatic switch-off
ceramic cooktops repair Ottawa
With this feature, if a heat setting is not set for a cooking zone within about 10 seconds after you turn on the cooking surface, the cooking surface will automatically switch itself off. This will also happen if a heat setting is selected and no contact has been made with a pot on the element after a similar time period. It's a good feature for peace of mind – particularly if you're one of those people who are constantly worried you've left the stove on.
Automatic heat-up Ottawa electric cooktop repair 

This feature initially uses high power to heat up the cooktop quickly before switching to a lower temperature. If you've forgotten to turn down the heat, this feature takes care of it for you.
Hired help
ceramic cooktops repair Ottawa
Call out a licensed tradesperson to install your new cooktop. They know what they're doing, so it's safer; and even if you think you can do it yourself, if something goes wrong you may void your warranty.