Induction and gas are both great options but you need to weigh up which one you'd prefer.
Gas has traditionally won the battle of the cooktops against electric hands down. However, a new player has entered the scene – induction. It's electric but more clever and efficient. Many of the issues people had with electric cooktops – accuracy, speed, safety, heat waste, and so on – are addressed by induction, which passes energy through the cooktop directly to an iron-based pan, inducing a current which releases heat. But do induction cooktops have an advantage over gas ones?
Induction is the fastest cooking method but when it comes to heat control induction and gas are much the same.

cooktop repairs ottawa

Gas provides visual feedback when you raise and lower the flame.
If you love to cook stir-fries many gas models come with a specially designed burner for woks.
Cast iron trivets on gas cooktops can be bulky and difficult to clean whereas induction gives you a sleek surface that's easy to clean.
You need specific cookware for induction but this isn't an issue for gas.
Induction is generally the more expensive option of the two.
Speed
cooktop repairs Ottawa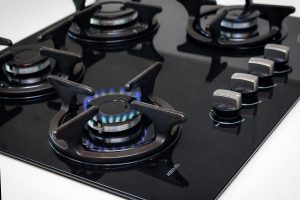 Gas cooktops are known for being fast, effective, responsive and powerful. That's why they're used in the majority of professional kitchens and in those of most serious home cooks. There's no waiting time before they heat up – once you switch it on, it's on. cooktop repairs Ottawa
Induction cooktops are also incredibly fast, making them both cost and time-efficient.
Safety
Gas cooktops are generally thought to be safer than electric ones as they cool down far more quickly once switched off. However, because induction heats the pan rather than the surface of the cooktop, the only heat on the cooktop after the pan has been removed is residual heat from that pan and is therefore minimal.
Energy efficiency
Traditional electric cooktops create more ambient heat than gas versions, meaning more wasted energy. Because the heat immediately dissipates when the pan (and heat source) is removed, induction cooktops create very little waste heat but both are very efficient.
Installation and power requirements
Induction cooktops use a lot of energy and therefore can require special power connections. Some cooktops may require more power than your home can supply. Therefore  always check the total wattage before purchase.

cooktop repairs Ottawa

A normal everyday home plug has a 10Amp connection, whereas an induction cooktop may require a 20A, 32A or even 42A connection. These will have to be hard-wired by a licensed electrician.
To get a good installation price, get three different installers to give you a quote, but the price will depend on how difficult it is to install the dedicated circuit from the main board in your home to the kitchen.
Induction cooktops require specific dimensions to be observed when installing and this will also cost you. This is due to the large amount of heat that the cooktop needs to get rid of during its operating. They generally also come with fans to disperse the heat so you'll hear a little noise during and after operation.
Always follow the

installation

instructions closely and hire a licensed electrician. This will avoid any safety issues and ensure the long life of your cooktop.